In honor of April's official birthstone, let's take a deep dive into the story behind the 127.01-carat "Portuguese Diamond." The gem carries the distinction of being the largest faceted diamond in the Smithsonian's National Gem Collection, while owning a name that totally misses the mark on its provenance.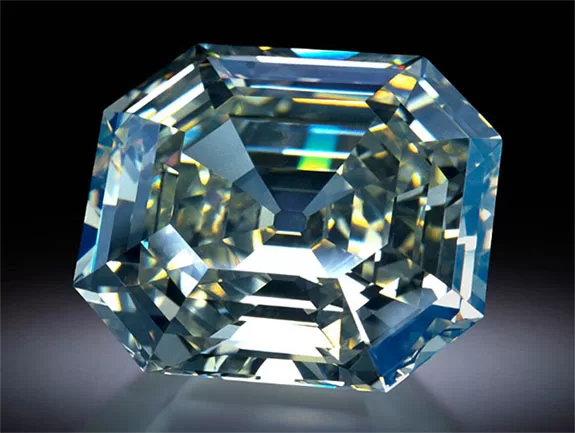 Legend has it that the near-flawless diamond was unearthed in Brazil during the mid-18th century and became part of the Portuguese Crown Jewels.
But, here's the rub. According to the Smithsonian, no documentation exists to substantiate a Brazilian origin nor a connection to Portuguese royalty. It's not clear where or from whom this story originated.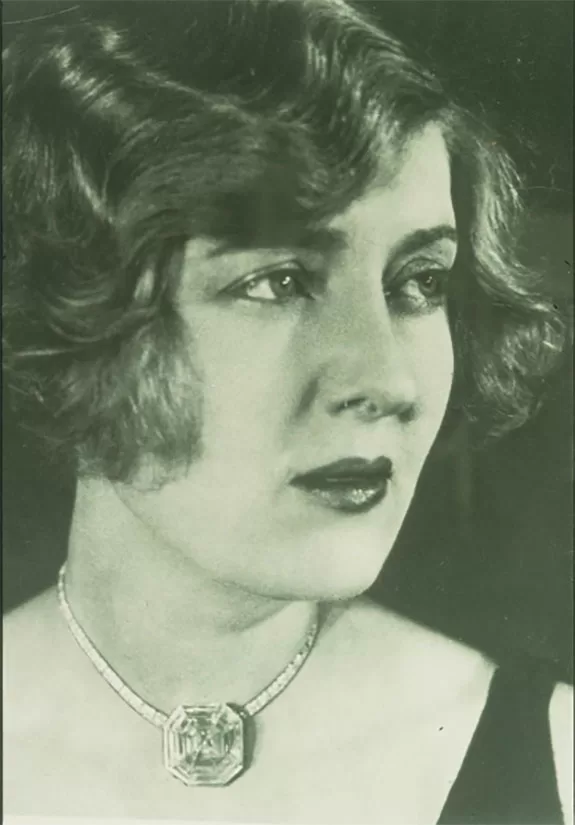 What we do know for sure is that Peggy Hopkins Joyce, a glamour girl and Ziegfeld Follies starlet, purchased the diamond from Black, Starr & Frost in February of 1928 and had it mounted on a diamond-studded platinum choker.
To obtain the massive stone, the performer traded a $350,000 pearl necklace and added $23,000 in cash to do the deal. The cash outlay in 1928 was worth about $404,000 in today's dollars.
Black, Starr & Frost clarified that the diamond had been sourced in 1910 at the Premier Mine in Kimberley, South Africa. It's the same mine that yielded the 3,106.75-carat Cullinan Diamond in 1905. More than 118 years later, the Cullinan still holds the title of the largest rough gem-quality diamond ever found.
Black, Starr & Frost had obtained the Portuguese Diamond as a cushion-cut stone weighing nearly 150 carats, but the jeweler later fashioned it into an Asscher cut at 127.01 carats.
In the late 1940s, the diamond toured the US, apparently in an attempt to attract a buyer, as the "World's Largest Emerald-Cut Diamond." (Asscher-cut and emerald-cut diamonds have a similar stepped faceting, but Asscher-cut diamonds have more of an octagonal shape.)
In 1951, the aging starlet, then 58, sold the Portuguese Diamond to New York jeweler Harry Winston, who added the gem to his traveling "Court of Jewels" exhibit.
Twelve years later, the Smithsonian acquired the diamond from Winston in exchange for a cache of small diamonds weighing a total of 3,800 carats.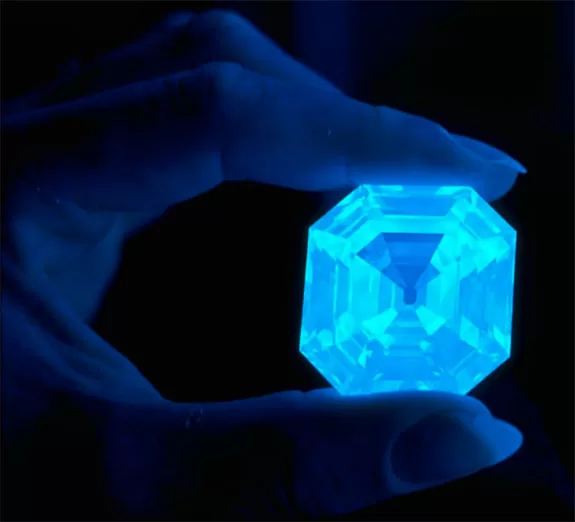 In addition to its unusual history, The Portuguese Diamond is also unique in that it exhibits a bright blue florescence so intense that it is visible not only under ultraviolet light, but also in daylight or incandescent light.
The fascinating Portuguese Diamond is on display in the Gem Gallery at the National Museum of Natural History.
Credits: Diamond image by Chip Clark and digitally enhanced by SquareMoose / Smithsonian. Peggy Hopkins Joyce images courtesy of Smithsonian. Ultraviolet image by Chip Clark / Smithsonian.