Former Miss Universe and model Olivia Culpo turned to Instagram last Friday to show off her gorgeous oval-shaped diamond engagement ring from San Francisco 49ers star running back Christian McCaffrey.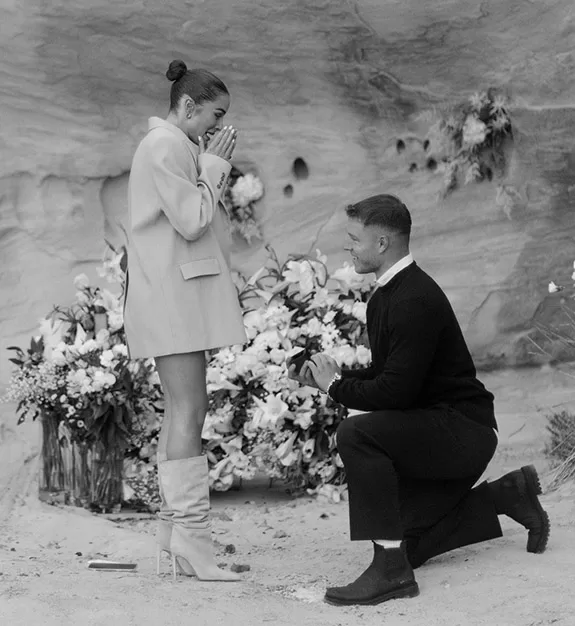 In a beautifully shot series of B&W photos taken during their Utah desert holiday in early April, we can see the athlete going down on one knee with a ring box in hand as his girlfriend presses her palms together in front of her face in surprise.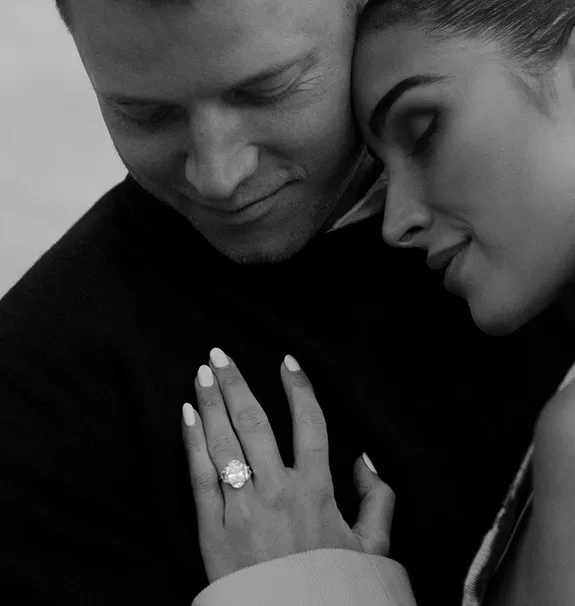 In the the final frame of the carousel, her 5.3 million followers got a good look at Culpo's oval center stone framed by two five-sided epaulette-shaped accent diamonds. (The shape is a mashup of a triangle and a trapezoid, typically seen on the shoulder patches of military personnel.) The precious stones are set in platinum and mounted on a delicate yellow gold band.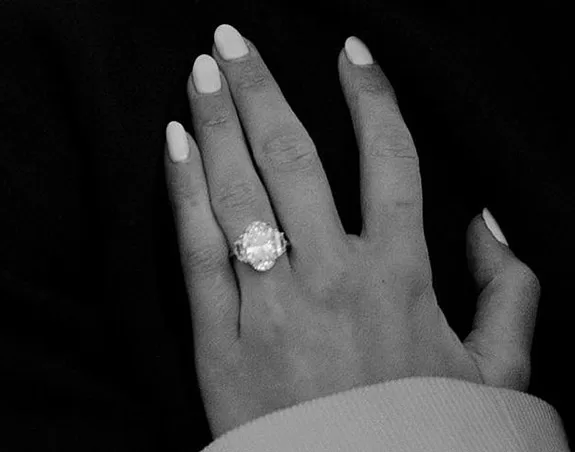 Culpo, 30, captioned the photos with the couple's engagement date — 4.2.23. She bracketed the date with grey infinity symbols.
Celebrity jewelers have estimated the weight of the oval center stone at 5 to 8 carats and the value of the ring in the neighborhood of $500,000 to $600,000.
On April 5, Culpo and McCaffrey had shared a 10-pic carousel of their RV adventure in the desert with the caption, "Road-trip shenanigans," without revealing that they had been engaged three days earlier.
It's been reported that their adventure included a stop at the tony Amangiri resort in Canyon Point, UT, but it's not clear if the proposal took place there.
In an Instagram Story, Culpo admitted, "We tried to keep this quiet for as long as possible but apparently word travels fast."
The 26-year-old Stanford alum, who was recently traded to the 49ers from the Carolina Panthers, reportedly worked with Nicole Wegman of New York-based Ring Concierge to design a ring that matched Culpo's "trend-setting style" while "still remaining timeless."
Culpo won the title of Miss Universe in 2012 after qualifying as Miss USA and Miss Rhode Island USA. The soon-to-be bride is a successful model and influencer, and she even starred in a short-lived 2022 reality series called The Culpo Sisters.
McCaffrey and Culpo first started dating after being set up by friends in May 2019. They have been sharing their romantic adventures on social media ever since. Culpo has been particularly supportive of McCaffrey's football heroics.
In early January, Culpo wrote, "WHAT A YEAR ! So proud of you @christianmccaffrey. You deserve this and beyond. Next up, playoffs!"
The 49ers would eventually lose to the Philadelphia Eagles in the conference championship.
Credits: Images via Instagram / oliviaculpo.
One of Oscar Meyer's 27-foot-long hotdog-shaped promotional vehicles will be making a two-day stop in Las Vegas this weekend, where it will be transformed into the city's newest wedding chapel: "The Wienermobile of Love."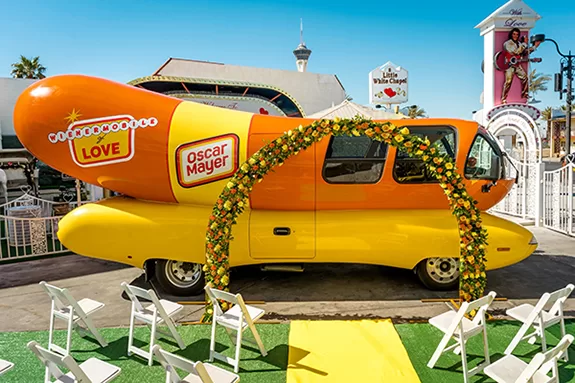 On Monday, the popular hotdog brand, announced on its social media pages an opportunity for soon-to-be-newlyweds to exchange vows "in hotdog bliss." The Wienermobile, one of six that criss-cross the continent throughout the year, will be parked outside the famous Little White Wedding Chapel on Las Vegas Boulevard.
Via social media, Oscar Meyer explained that the all-expenses-paid ceremonies would take place within 30-minute time slots on Saturday and Sunday, April 15 and 16, and that reservations could be reserved on a first-come, first-served basis.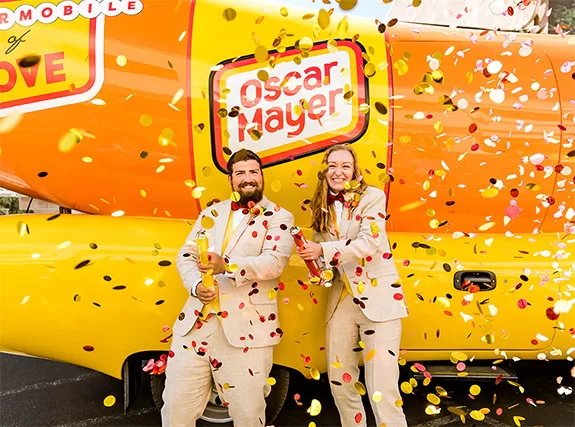 Couples who can secure a spot will be wed by the brand's beloved hotdoggers in a ceremony that includes a live wiener whistle quartet and an "odd wiener cake." (Wienermobile drivers are called "hotdoggers.")
As of this writing, all the reserved spots have been taken, but applicants may still join the waitlist.
The company noted that the weekend promotion, titled "Meat You Down the Aisle," is designed to subvert the seriousness of stressful wedding planning and highlight the joy weddings should bring.
Specifically, the promotion addresses a recent Zola survey that revealed 72% of couples felt either "very" or "extremely" stressed about planning their big day.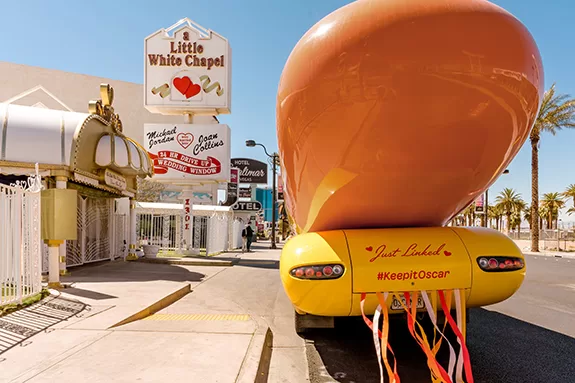 Instead, Oscar Mayer is bringing some much-needed relief by providing couples the chance to trade in the hoopla of a traditional wedding in favor of something stress-free and fun: an elopement to the Wienermobile outside the Little White Wedding Chapel.
Said Ed Roland, Oscar Mayer's senior manager of brand communications, "Now, as more people seek stress-free ceremonies with their partners, our Hotdoggers are thrilled to reignite the joy of this special day and give them a once-in-a-lifetime experience: a wedding through a pair of meat-colored glasses."
For years, the brand's fans have been encouraged to order up a Wienermobile for their marriage proposals. To book one, all they had to do was visit the company's website, fill out a request form, and hope for some good luck. Each year, Oscar Meyer receives thousands of requests for the Wienermobile to be part of a couple's big day.
Wienermobile proposals became a thing at Oscar Mayer after Zach Chatham, an official Wienermobile driver, revealed his plans to pop the question in front of the vehicle at Yellowstone National Park. This hotdogger's proposal idea caught the attention of Nick Guerten, marketing director for Oscar Mayer.
"When Zach told us about his plans to propose with the Wienermobile at Yellowstone, we knew it would be a one-of-a-kind experience they would never forget," Guerten told foodandwine.com. "We wanted to extend this to our fans so everyone can have the opportunity of a 27-foot hotdog on wheels present during such an important life moment."
Oscar Mayer charges no fee for a Wienermobile appearance, but spots are based on availability. The company has recommended that requests be made from three to 12 months ahead of the big day. The company usually notifies couples one week prior to the requested date.
Trivia: The first Wienermobile was created in 1936 by Carl Mayer and the 1952 version of the Wienermobile has a permanent home at the Henry Ford Museum in Dearborn, MI.
Fans can track the whereabouts and promotional appearances of the six Wienermobiles on this page.
Credits: Images via BusinessWire, oscarmeyer.com.
The De Beers Institute of Diamonds just revealed "Beating Heart," a fascinating and ultra-rare diamond-in-a-diamond. Weighing about 1/3 of a carat, the unusual rough stone has an internal cavity with a free-moving, smaller diamond trapped inside.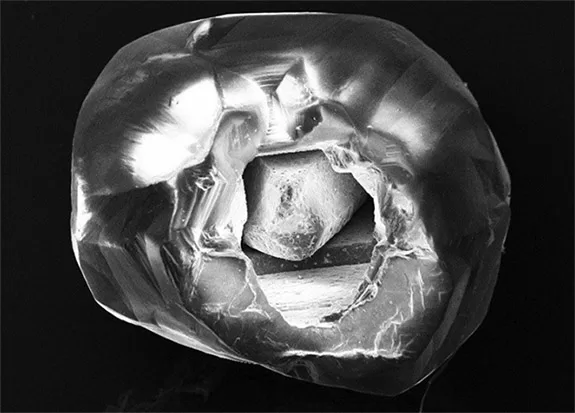 De Beers Group unearthed the Beating Heart at one of its four global mining locations (Botswana, Canada, Namibia or South Africa) although it's still not clear which one delivered this treasure. Sorters at De Beers Group Sightholder VD Global (VDG) in India identified the unusual stone as a "significant anomaly" in October 2022 and sent it back to the UK for analysis.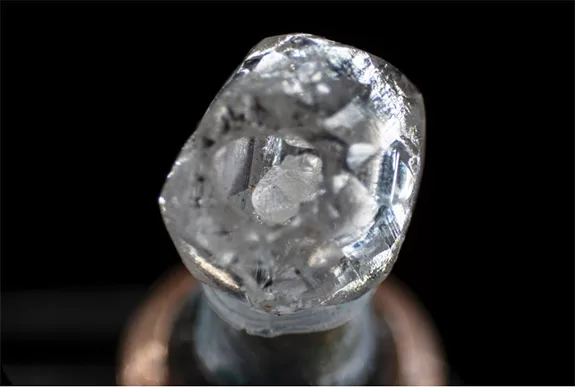 An arsenal of sophisticated equipment developed by De Beers Group Ignite, including the DiamondView and SYNTHdetect, was used in a preliminary analysis of the diamond, followed by optical and scanning electron microscopy (SEM), Fourier-transform infrared (FTIR) spectroscopy, and fluorescence and phosphorescence imaging.
Armed with this information, the De Beers Institute of Diamonds (IoD) was able to provide an explanation of how the 0.329 carat, D-color, Type IaAB diamond came to be.
Scholars at the institute believe that the diamond's formation process occurred in three phases. The inner "core" consisted of good-quality diamond growth, followed by a middle layer of growth that was poor and fibrous. The final, outer layer, was a coating of gem-quality crystal.
At some point between its formation and travel to the surface of the Earth, the poor-quality middle layer etched away, leaving only the untethered core and the outer coating.
"The Beating Heart is a remarkable example of what can happen on the natural diamond journey from formation to discovery," noted Jamie Clark, head of global operations at IoD. "We would like to thank VD Global for recognizing this diamond's potential and acknowledging its educational and scientific potential."
While the Beating Heart is a true oddity, it's not the first of its ilk.
Back in 2019, mining company Alrosa surprised its Instagram followers with a video that seemed to show a tiny rough diamond rattling around in the cavity of a larger one. The caption read, "A diamond in a diamond? We couldn't help but share this very special find with you."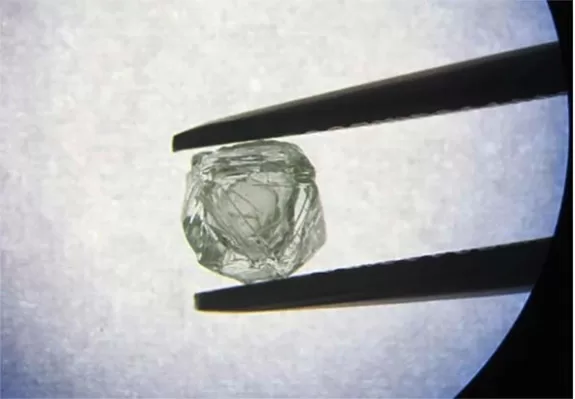 Alrosa researchers utilized Raman spectroscopy, infrared spectroscopy and X-ray microtomography to confirm that both the smaller crystal and its host were diamonds.
Alrosa named the curious double-diamond "Matryoshka" — a nod to the popular Russian nesting dolls. The diamond was discovered in Yakutia at the Nyurba mining and processing division of Alrosa.
Still another diamond-in-a-diamond was unearthed by India Bore Diamond Holdings (IBDH) in 2021 at its Ellendale alluvial deposit in Western Australia. The mining company reported finding an 0.844-carat flat, triangular gem, which contained a second diamond weighing just 0.001 carats.
IoD noted that the Beating Heart specimen will be left intact so it can be used for research and educational purposes with the consent of VDG.
Alrosa also had clarified in 2019 that the Matryoshka diamond had been added to its collection of rare finds — and was not for sale.
Credits: Electron microscope image by Ivan Nikiforov / De Beers Institute of Diamonds. "Beating Heart" diamond photo by Danny Bowler / De Beers Institute of Diamonds. "Matryoshka" diamond courtesy of Alrosa.
The 55.22-carat "Estrela de Fura," the largest gem-quality ruby to ever appear at auction, is expected to make headlines at Sotheby's Magnificent Jewels sale in New York on June 8. The gem has a chance to break two records that have stood since 2015: The largest sum ever paid for a ruby and the highest price-per-carat ever paid for a ruby.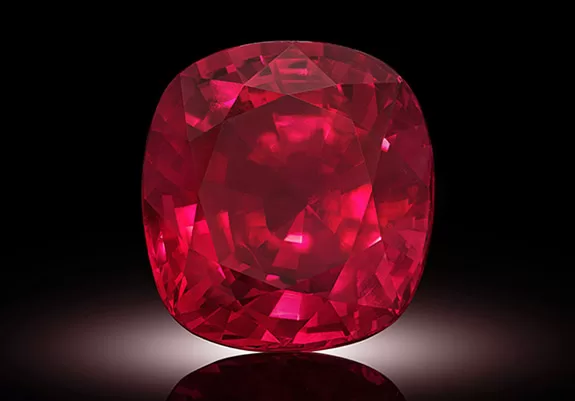 Back in September 2022, mining company Fura Gems unveiled the Mozambique-sourced "Estrela de Fura" in its rough form. At the time, it weighed 101 carats and was described as a "once in a century" discovery.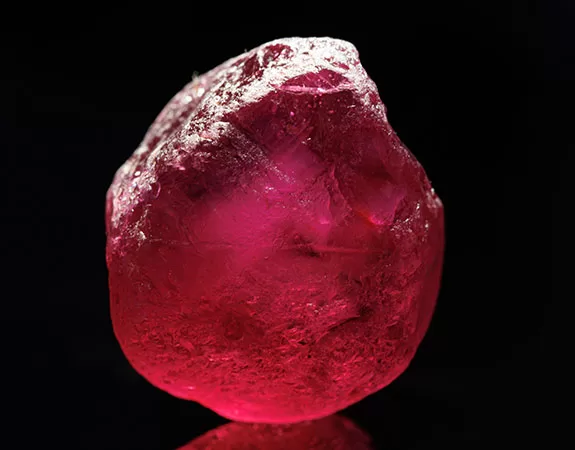 Even in its rough, untouched state, Estrela de Fura was considered by experts as an exceptional treasure of nature for its fluorescence, outstanding clarity and vivid red hue, known as "pigeon's blood" — a color traditionally associated only with Burmese rubies.
The company's chief executive, Dev Shetty, said at the time that the gem could eventually yield a faceted stone weighing 50 carats or more and challenge the records held by the 25.59-carat, cushion-cut "Sunrise Ruby."
We assumed that if the quality of the polished Estrela de Fura (Portuguese for "Star of Fura") turned out to be on par with the "Sunrise Ruby" ($30.3 million), Fura's find might deliver $50 million or more.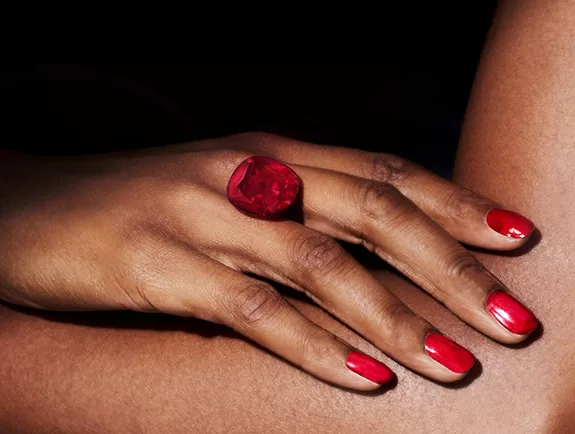 The past week, Fura and Sotheby's confirmed that the 101-carat rough from the Montepuez ruby deposit did, indeed, yield a top-quality, cushion-cut ruby exceeding 50 carats. Fura reported that Estrela de Fura displays a saturated and homogeneous red color, combined with a degree of clarity unseen in any other unheated ruby of comparable size.
Estrela de Fura was masterfully cut and faceted by a team of artisans, according to Fura. The rough was transformed into a beautiful cushion-shaped stone which, according to a report from the Swiss Gemmological Institute (SSEF), "resulted in vivid red hues due to multiple internal reflections."
The report further stated that the gem is profoundly rich in chromium which, when exposed to ultraviolet light — as found in sunlight — causes the stone to radiate a fiery red fluorescence, further enhancing the stone's vibrancy, as though it was lit from within.
"From the in-depth analysis and study of the stone through the process of cutting and polishing, we have worked with the utmost care and respect for the ruby, recognizing its importance and stature, " said Shetty. "Witnessing the completion of Estrela de Fura was a monumental achievement for all of us, and we are excited that a new page in the story of this incredible gem and Mozambican rubies is about to be written with Sotheby's."
While it's nearly a sure bet that Estrela de Fura will beat the Sunrise Ruby's record for the highest price ever paid at auction for a ruby, the "once-in-a-century" gem will need to achieve about $66 million to overtake the Sunrise Ruby's per-carat record of $1,185,451. That's a tall order.
Estrela de Fura is currently embarking on a multi-city tour ahead of the New York auction. The stone will be making appearances in Hong Kong, Taipei, China, Singapore, Geneva and Dubai.
Credits: Images courtesy of Fura Gems.
Welcome to Music Friday when we often bring you uplifting songs with jewelry, gemstones or precious metals in the title or lyrics. Today, we shine the spotlight on "Gold," a song familiar to fans of ABC's long-running hit show, Grey's Anatomy.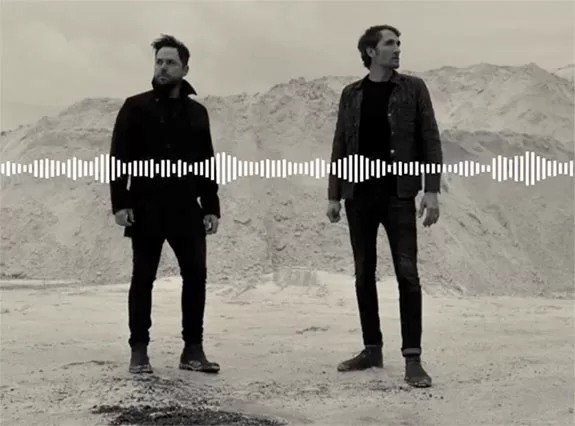 Performed by SAILR, the inspirational tune amplified the emotional conclusion of "Pick Yourself Up," the episode that aired on Thursday, March 30. The song ran for about five minutes as the major plot lines were sewn up. "Gold" was likely selected by the show's creative team due to the powerful message it delivers about what is really important in life.
Lead vocalist Josh Jenkins sings, "Gold, all the little seconds that we hold / Every single breath we get to take / Don't let 'em go to waste / Give it all your heart and soul / They'll be gone before you know / So treasure it like gold."
The writer/composer team of Jenkins and Jordan Critz had introduced "Gold" on the SAILR Instagram page with an audio sample on June 2, 2022. Then, on Thursday a week ago, the team alerted its Instagram followers that the song would be featured on Grey's Anatomy (Season 19, Episode 12) that same night.
This was not the first time a SAILR song has been selected for that show. On October 21, 2021, SAILR's "Puzzle Peace" made its television debut in Episode 4 of Season 18.
Jenkins and Critz describe SAILR as a cinematic folk band based in Nashville. Cinematic music is unique in that the compositions in this genre are intended to be used in a movie or television soundtrack. It's the type of music that evokes strong emotions, especially when combined with video.
Please check out the audio track of SAILR performing "Gold." The lyrics are below if you'd like to sing along…
"Gold"
Written and composed by Josh Jenkins and Jordan Critz. Performed by SAILR.
Time is a wheel that is spinning
Always moving on
The moments you think last forever
You look up and one day they're gone
Gotta hold on, hold on, hmm
I see little glimmers of heaven
From the waves to my own daughter's eyes
Of all the things this life could offer
I know that there's no greater prize
Than to hold on, hold on
Gotta hold on, hold on
Gold, all the little seconds that we hold
Every single breath we get to take
Don't let 'em go to waste
Give it all your heart and soul
They'll be gone before you know
So treasure it like gold
Everything we're looking for
Has been in our reach all along
All we gotta do is listen
To hear it ring out like a song
Let it stop you and behold
'Cause it's something beautiful
Gold, all the little seconds that we hold
Every single breath we get to take
Don't let 'em go to waste
Give it all your heart and soul
They'll be gone before you know
So treasure it like gold
From the morning to the midnight
From the high roads to the low tide
Feel it all 'cause it's all part of it
Yeah, we watch it as it goes by
Then we look back and we realize
Every minute was all just a gift
Gold, all the little seconds that we hold
Every picture in our mind we get to take
Don't let one get away
Give it all your heart and soul
They'll be gone before you know
So treasure it like gold
Credit: Image via Instagram.com / sailrband.
Crafted in 14-karat white and yellow gold and hand-set with 679 diamonds and sapphires, the 2022 World Series ring celebrates the Houston Astros' memorable season and ultimate triumph over the Philadelphia Phillies with artful storytelling details.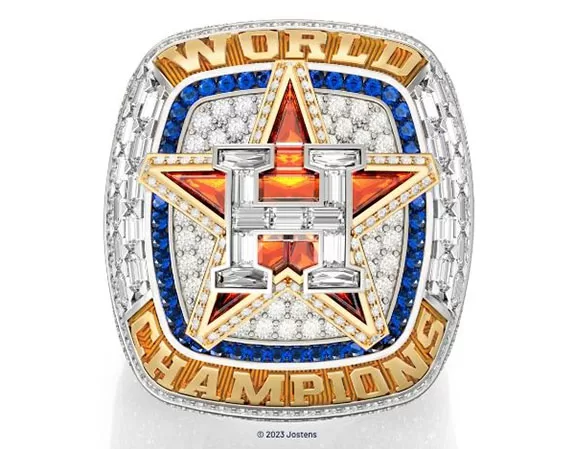 Coaches and players received their rings on the field at Minute Maid Park during a special ceremony prior to the team's home opener on Friday.
Each ring features 591 round diamonds, 11 baguette-cut diamonds, 22 emerald-cut diamonds, 9 custom-cut orange sapphires, 2 round orange sapphires, 1 star-shaped orange sapphire, 42 round blue sapphires and 1 star-shaped blue sapphire. The total weight of all the gemstones is approximately 15.30 carats.
The Astros introduced their "Level Up" slogan at the beginning of the 2022 season. Having lost to the Atlanta Braves in the 2021 Fall Classic, the Houston squad was ready to take it to the next level. On social media, the team wrote, "This year, we're aiming for the pinnacle. We're ready to #LevelUp."
And with 117 combined regular and postseason wins, they certainly delivered on that promise.
"Jostens is proud to once again be celebrating this team with a one-of-a-kind ring that tells the story of their season," noted Chris Poitras, general manager and senior vice president of Jostens Professional Sports Division. "This ring is filled with details that bring the Astros championship journey to life and Jostens is honored to be the trusted partner of the 2022 World Series Champions." 
The ring's top features the iconic Astros "H" logo created from custom-cut orange sapphires and 11 baguette diamonds. These 11 diamonds honor the Astros rich championship history, combining the five AL West Division titles, four AL Pennants and two World Series victories during the team's current golden era.
The yellow gold border of the star is set with 71 round diamonds, symbolic of the 71 strikeouts by Astros pitchers during the World Series – a new MLB record. Surrounding the logo are an additional 117 diamonds, representing the Astros 117 total wins during the season.
Jostens noted that the ring of 42 round blue sapphires that encircles the logo is historically significant on a few levels. In 1980, the Astros experienced a heartbreaking loss in the NLCS to the Phillies and it took them 42 years to avenge that loss.
In addition, the sapphires mark the 42 postseason games that it took Dusty Baker Jr. to win his first World Series as a major league manager. And finally, 42 is the iconic number worn by baseball legend Jackie Robinson. The year 2022 represented the 75th anniversary of Robinson's historic MLB debut 1947. His number has been retired throughout Major League Baseball.
Framing the top and bottom of the logo are the words "WORLD CHAMPIONS" in raised gold lettering. Exactly 22 emerald-cut diamonds are set on the sides of the ring top, a nod to the 22 runs the Astros scored over the six games of the World Series. The ring top is completed with 60 round diamonds that wrap the circumference. The 2022 season was the 60th year in Astros franchise history and these diamonds celebrate that milestone.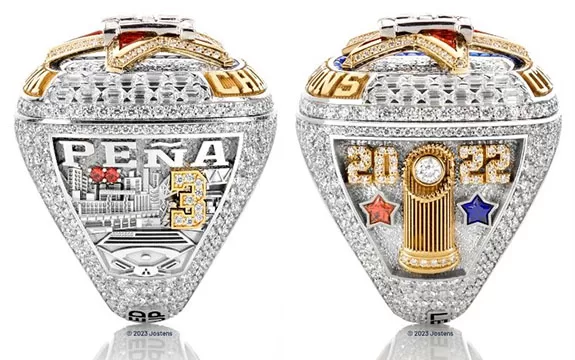 The left side of the ring features the player's last name in raised white gold lettering above the player's jersey number. Each jersey number is outlined in contrasting yellow gold and set with white diamonds. A meticulously detailed image of Minute Maid Park can be seen in the background to the left of the jersey number. Two orange sapphires set upon the Minute Maid Park image honor the two no-hitters thrown by the Astros in 2022, including the team's historic World Series no-hitter in Game 4.
Of note, the Astros also set a record on June 15, 2022, by delivering two immaculate innings within one game. (An immaculate inning occurs when a pitcher strikes out all three batters faced with a total of nine pitches.)
The right side of the ring displays the championship year, 2022, created in yellow gold and set with 29 diamonds. The Commissioner's Trophy is also rendered in yellow gold and accented with a singular diamond in the top, representing the team's first World Series won on its home field in Houston.
An additional six diamonds are set along the trophy's base, a nod to the Astros' six straight ALCS (American League Championship Series) appearances. Two sapphire stars, one orange and one blue, anchor either side of the trophy and represent the two World Series wins in Astros' history.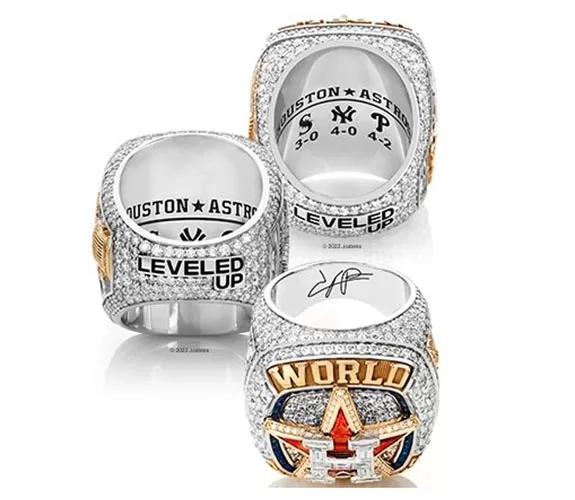 The interior of the ring is highlighted by the Astros' wordmark logo positioned above their opponents' logos and series results from the postseason run. Each player's signature provides a touch of personalization and can be found on the inside palm of their ring. The team's 2022 slogan in the past tense, "LEVELED UP" (as in "mission accomplished") appears along the outside palm of the ring.
Credits: Images courtesy of Jostens.
In honor of April's official birthstone, let's take a deep dive into the story behind the 127.01-carat "Portuguese Diamond." The gem carries the distinction of being the largest faceted diamond in the Smithsonian's National Gem Collection, while owning a name that totally misses the mark on its provenance.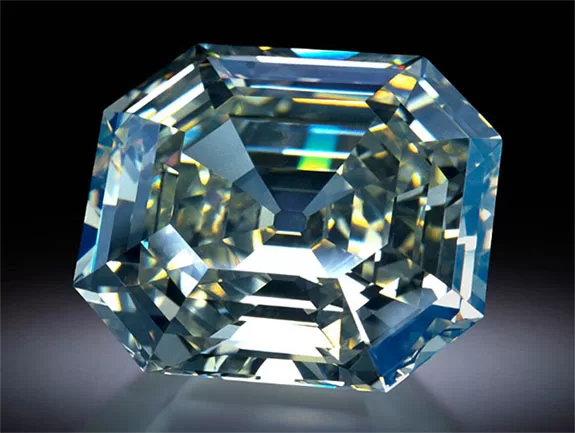 Legend has it that the near-flawless diamond was unearthed in Brazil during the mid-18th century and became part of the Portuguese Crown Jewels.
But, here's the rub. According to the Smithsonian, no documentation exists to substantiate a Brazilian origin nor a connection to Portuguese royalty. It's not clear where or from whom this story originated.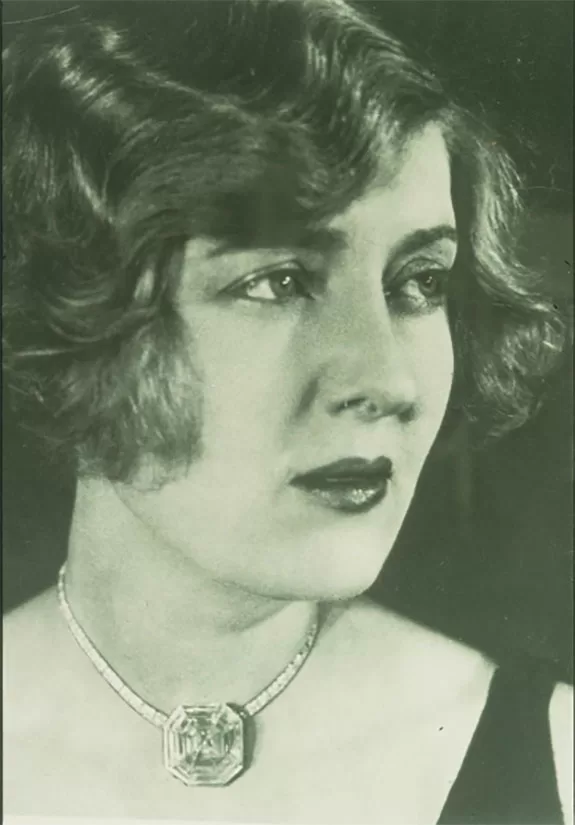 What we do know for sure is that Peggy Hopkins Joyce, a glamour girl and Ziegfeld Follies starlet, purchased the diamond from Black, Starr & Frost in February of 1928 and had it mounted on a diamond-studded platinum choker.
To obtain the massive stone, the performer traded a $350,000 pearl necklace and added $23,000 in cash to do the deal. The cash outlay in 1928 was worth about $404,000 in today's dollars.
Black, Starr & Frost clarified that the diamond had been sourced in 1910 at the Premier Mine in Kimberley, South Africa. It's the same mine that yielded the 3,106.75-carat Cullinan Diamond in 1905. More than 118 years later, the Cullinan still holds the title of the largest rough gem-quality diamond ever found.
Black, Starr & Frost had obtained the Portuguese Diamond as a cushion-cut stone weighing nearly 150 carats, but the jeweler later fashioned it into an Asscher cut at 127.01 carats.
In the late 1940s, the diamond toured the US, apparently in an attempt to attract a buyer, as the "World's Largest Emerald-Cut Diamond." (Asscher-cut and emerald-cut diamonds have a similar stepped faceting, but Asscher-cut diamonds have more of an octagonal shape.)
In 1951, the aging starlet, then 58, sold the Portuguese Diamond to New York jeweler Harry Winston, who added the gem to his traveling "Court of Jewels" exhibit.
Twelve years later, the Smithsonian acquired the diamond from Winston in exchange for a cache of small diamonds weighing a total of 3,800 carats.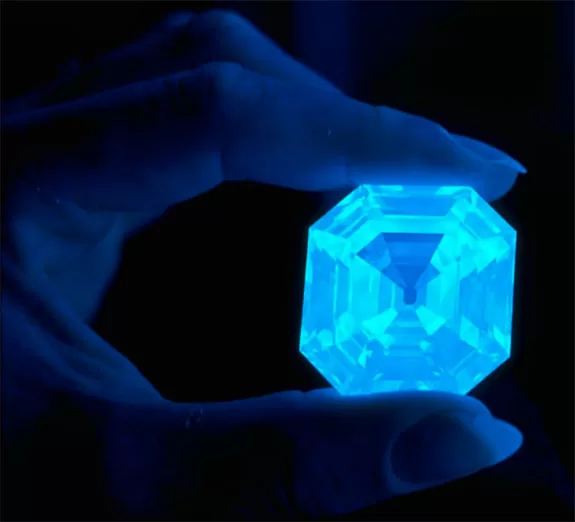 In addition to its unusual history, The Portuguese Diamond is also unique in that it exhibits a bright blue florescence so intense that it is visible not only under ultraviolet light, but also in daylight or incandescent light.
The fascinating Portuguese Diamond is on display in the Gem Gallery at the National Museum of Natural History.
Credits: Diamond image by Chip Clark and digitally enhanced by SquareMoose / Smithsonian. Peggy Hopkins Joyce images courtesy of Smithsonian. Ultraviolet image by Chip Clark / Smithsonian.
Described as a diamond "in a stratosphere of its own," the 10.57-carat "Eternal Pink" is expected to eclipse $35 million when it hits the auction block at Sotheby's New York on June 8.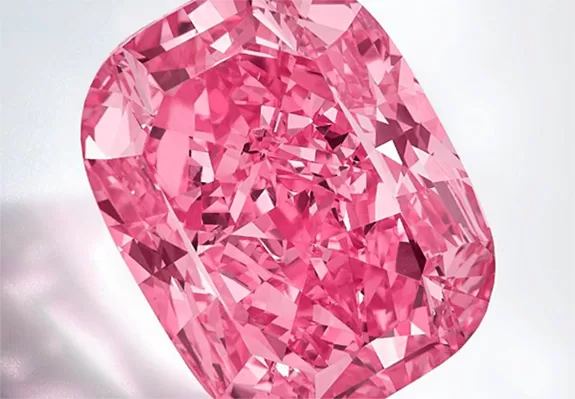 If it achieves that lofty mark, The Eternal Pink will join the upper echelon of the most valuable gems ever sold at auction.
Sourced at De Beers' Damtshaa mine in Botswana in 2019, the 23.78-carat rough diamond that yielded The Eternal Pink was fashioned into an exquisite cushion cut by a team of artisans at Diacore. The cutters worked on the stone for "six intense months" in an effort to bring out the diamond's electric "bubblegum" color.
It's not uncommon for a diamond of this stature to lose half of its weight during the cutting and polishing process.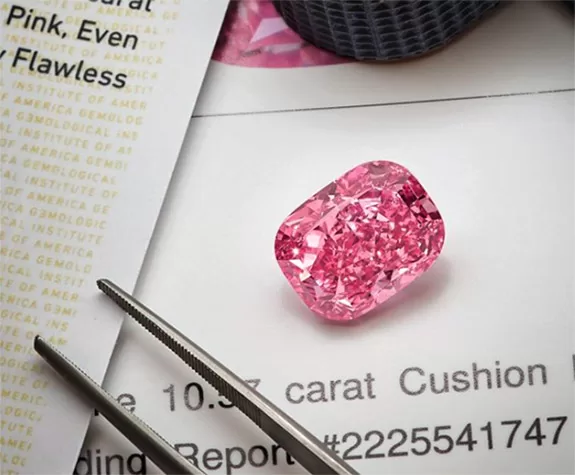 The end result was an internally flawless diamond with a color grade of "Fancy Vivid," the highest possible for a colored diamond. Sotheby's claims The Eternal Pink is the most vivid purplish-pink diamond ever to come to market.
"This color is the most beautiful and concentrated shade of pink in diamonds that I have ever seen," commented Quig Bruning, Sotheby's head of jewelry for the Americas.
According to the auction house, the modifying color of purple often results in the most charming and vibrant feminine hue that is the dream of many.
Sotheby's reported that the stone carries the highest price-per-carat estimate ever placed on any diamond or gemstone at auction. If it achieves the mark of $3.31 million per carat, it will still come up short of the current record holder, the 11.15-carat "Williamson Pink Star," which earned $57.7 million, or $5.2 million per-carat, at Sotheby's Hong Kong in October 2022. That selling price was more than 2.5 times the auction house's pre-sale high estimate of $21 million.
The "CTF Pink Star" still holds the record for any gem sold at auction. The 59.6-carat pink diamond sold at Sotheby's Hong Kong for $71.2 million in 2017.
Pink diamonds are in high demand and short supply since the November 2020 closure of Rio Tinto's Argyle mine, which had been the world's primary source of high-quality pink gems.
The Eternal Pink will be offered as a part of Sotheby's Magnificent Jewels auction on June 8 at Sotheby's New York. Prior to the sale, the headliner will be embarking on a world tour with stops in Hong Kong, Taipei, Mainland China, Singapore, Geneva and Dubai.
Credits: Images via sothebys.com, Twitter.com/sothebys.
Full-time chef and part-time romantic Ricardo Juarez thought it would be a good idea to hop onto the field at Dodgers Stadium during the seventh inning stretch on opening day to propose to his girlfriend, Ramona Saavedra, who was watching from the centerfield stands.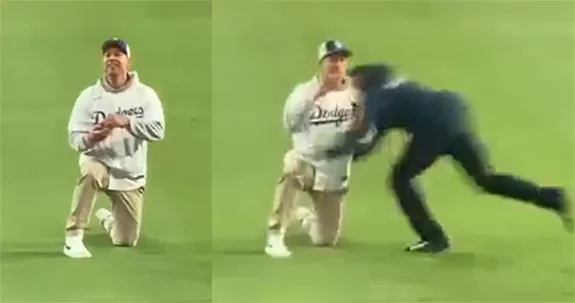 Wearing a Mookie Betts jersey and a Dodgers cap, Juarez jogged about 20 yards into centerfield, turned to the stands, went down on one knee and raised the ring box high above his head.
He looked wide-eyed into the stands in a blissful moment that drew "Awwws" from many of the 52,000 fans attending the contest against the Arizona Diamondbacks.
Even Diamondbacks' left fielder Lourdes Gurriel seemed to be enjoying Juarez's moxie as he raised his arms in support and watched the proposal from a few yards away.
In a blink, the touching proposal went very, very wrong when a security guard in a full sprint threw his body headlong into Juarez — flattening the man and sending his cap flying.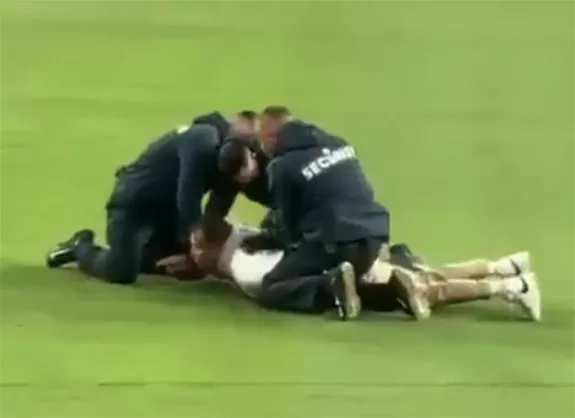 Soon two other security guards joined the scrum, handcuffing and arresting Juarez for his overzealous attempt to win his girlfriend's heart.
Countless smartphones captured the action in realtime and the videos quickly went viral on many social media and streaming platforms, including Twitter, Instagram and YouTube.
Twitter user @Mazeaveli captured the scene as viewed from the centerfield stands. See the video here…
After being released by the LAPD and told by the Dodgers organization that he wasn't permitted to attend another game for at least a year, the head chef at Oishii Sushi & Teriyaki, completed his proposal in front of a Motel 8 on Sunset Boulevard.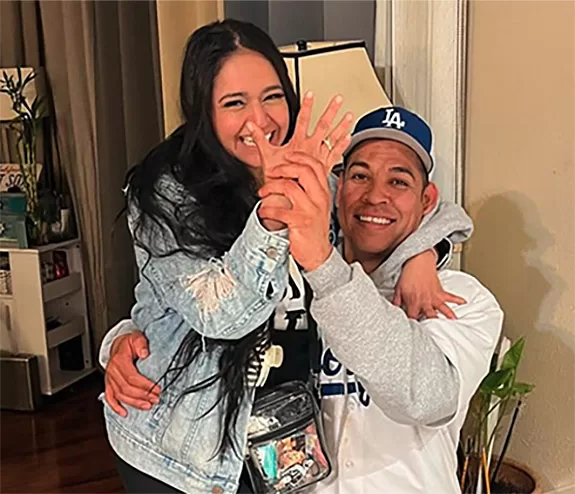 On Instagram, Saavedra showed off her new fiancé and new engagement ring, and commented about the on-field incident: "Tad bit extreme but he's a LEO, what can you expect? And of course I said YES!"
Saavedra told KABC's Eyewitness News that her boyfriend was feeling the aftereffects of the aggressive tackle.
"He says he's a little sore, but I think he will feel it tomorrow," Saavedra said. "He doesn't care, he's like, 'I would do it again.'"
Saavedra added she was shocked to see her boyfriend hop over the short wall in centerfield and jog onto the turf.
"I couldn't believe it," Saavedra said. "We were so close to the field he just thought it was so easy to just jump off and do it."
Juarez told reporters that he was initially going to propose in the stands, but the excitement of opening day combined with some liquid courage amassed during their party bus ride to the game eventually got the better of him.
Credits: Screen caps via Twitter.com / @Mazeaveli. Couple photo via Instagram.com / ramonasavvedra_nini_/.
Welcome to Music Friday when we often bring you throwback songs with jewelry, gemstones or precious metals in the lyrics or title. Today, we return to the early days of cable TV and celebrate the 40th anniversary of Spandau Ballet's James Bond-tinged pop anthem, "Gold."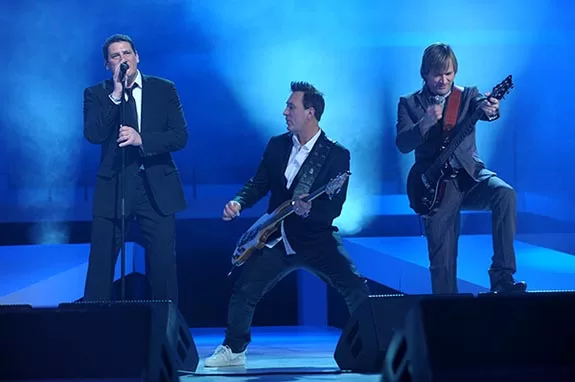 In the song, the protagonist's former love interest embodies the properties of a precious metal that is not only rare and beautiful, but virtually indestructible.
Lead vocalist Tony Hadley sings, "Gold (Gold) / Always believe in your soul / You've got the power to know / You're indestructible / Always believe in, 'cos you are / Gold (Gold).
Songwriter and lead guitarist Gary Kemp had always been inspired by the soaring theme songs composed by John Barry for the Agent 007 series and was determined to compose one of his own. Kemp headed to his bedroom and knocked out "Gold."
"I used to get my brother Martin to come in when I was writing songs to give an opinion, muck about on his bass to see if I was going in the right direction," Kemp told The Mail in 2011. "He loved 'Gold' from the start so I knew that I was on to something."
It was 1983 when Spandau Ballet earned a coveted spot on the MTV playlist with a lavishly produced music video for "Gold," a 3:51 journey of international intrigue that paid homage to Raiders of the Lost Ark (1981) and Goldfinger (1964).
In the music video, shot in Andalusia, Spain, Hadley plays an adventurer who searches an exotic town for the missing pieces of a gold puzzle.
"Gold" was released as the fourth single from Spandau Ballet's third album, True. With support from the fledgling MTV network, "Gold" became an international hit, charting in nine countries.
The song caught the attention of the BBC, which made "Gold" the theme song for its coverage of the 1984 Olympics in Los Angeles. In 1988, the band was invited to perform the song at the ceremony that saw Seoul pass the Olympic torch to the next host city, Barcelona. Even today, "Gold" continues to be a song associated with Olympic glory.
Formed in North London in 1979 by brothers Gary and Martin Kemp, Tony Hadley, Steve Norman, and John Keeble, Spandau Ballet enjoyed a run of new wave hits in the '80s and then a resurgence in 2009.
Please check out Spandau Ballet's official music video for "Gold." The lyrics are below if you'd like to sing along…
"Gold"
Written by Gary Kemp. Performed by Spandau Ballet.
Thank you for coming home
I'm sorry that the chairs are all worn
I left them here I could have sworn
These are my salad days
Slowly being eaten away
Just another play for today
Oh but I'm proud of you, but I'm proud of you
Nothing left to make me feel small
Luck has left me standing so tall
Gold (Gold)
Always believe in your soul
You've got the power to know
You're indestructible
Always believe in, 'cos you are
Gold (Gold)
Glad that you're bound to return
There's something I could have learned
You're indestructible, always believing
After the rush has gone
I hope you find a little more time
Remember we were partners in crime
It's only two years ago
The man with the suit and the face
You knew that he was there on the case
Now he's in love with you, he's in love with you
My love is like a high prison wall
But you could leave me standing so tall
Gold (Gold)
Always believe in your soul
You've got the power to know
You're indestructible
Always believe in, 'cos you are
Gold (Gold)
I'm glad that you're bound to return
Something I could have learned
You're indestructible, always believing
My love is like a high prison wall
But you could leave me standing so tall
Gold (Gold)
Always believe in your soul
You've got the power to know
You're indestructible
Always believe in, 'cos you are
Gold (Gold)
I'm glad that you're bound to return
Something I could have learned
You're indestructible, always believing
Credit: Photo by Peter.Wetter, CC BY-SA 3.0, via Wikimedia Commons.